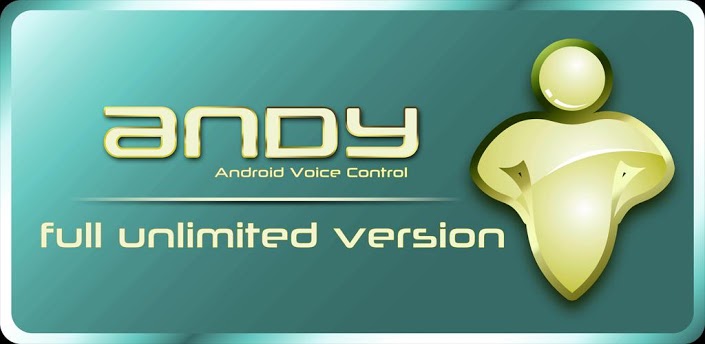 APP description:
Andy is an intelligent (Siri like) personal assistant, knowledge navigator and voice control software designed for Android devices (phones/tablets) with hundreds of thousands of active users. .
Features:

*Currently Supported features:
- General Questions
- Celebrity and famous people info (born, siblings, weight, height, etc.)
- Movie, music and other information (when released, cast, etc.)
- Android Applications (open Android apps by voice)
- Android Functions (control Android features and functions by voice)
- Browse Internet (browse the net using voice)
- Calendar
- Coordinates (get your current coordinates, down to a nearest address)
- Currency Conversions (Live exchange rates)
- Current Location (get your current location, down to a nearest address)
- Definitions (get definitions)
- Device Information (information about your android device)
- Directions to Nearest Place
- Distance + Directions
- Distance Measurements (from one place to another)
- Email Messaging
- Flight Status (get Live flight status information)
- Holidays (how many days till ...)
- Interesting Facts (many interesting facts from science, etc.)
- Live Stock Quotes (in USD)
- Live Gold, Silver, Platinum, Palladium Spot Price (in USD)
- Math Functions (huge variety of math functions supported)
- Music (play any song just by saying its name)
- Personalization (teach Andy your name)
- Search Google (opens Google with your search term pre-filled)
- Search Photos (search Google photos by voice)
- Search Youtube (search videos by voice)
- Set Alarms & Wake Up times
- Set Reminders (at specific time)
- Set Reminders (in days/hours/minutes)
- Sport results
- Sunset/Sunrise (in any city)
- Text Messaging (text message by voice + read latest message)
- Time & Date (ask for time and date in any place in the world)
- Time & Date (what day is today, tomorrow, x days from now, etc.)
- Time & Date (what's your local date and time)
- Tip calculations (good for calculating restaurant tips)
- Translate any English word or sentence to 65 languages.
- Voice Calls (call anyone in your address book just by using your voice)
- Weather (Live weather for your location + suggestions answer to questions such as: Do I need an umbrella, etc.)
- Weather (for any location worldwide)
- Word Spelling (will spell any word you ask for)
... and more...!
Comments: