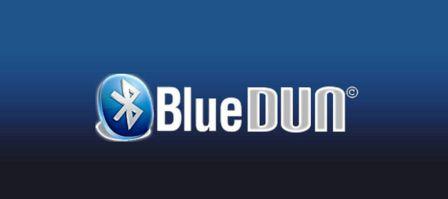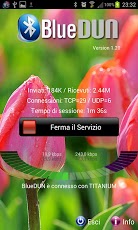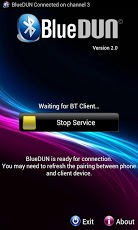 APP description:
This program emulates the hardware modem on your Android phone. It allows your phone to share wifi or mobile connection over the bluetooth channel with other devices like PCs,tablets or navigation systems. The bluetooth DUN (dial-up network) service is turned on, in order to enable the external device to access the Internet! .
Features:

* Tested with Windows Xp/7 PCs, Mercedes Comand OnLine, Toyota Touch&Go / Entune, Tom Tom Go/Rider, Clever GPS, BB Playbook It doesn't work with Motorola DROID RAZR and some HTC devices due to manufacturer's limitations on current ICS firmware. Please test the trial version (it includes the same connection algorithms) before purchasing and contact me for any issue before writing negative comments; I can also refund you also after the 15mins of testing period.

How to setup (only the first time):
- Remove the previous pairing between your devices
- Start the BlueDUN service, make the phone discoverable
- Create the new pairing
- Setup the DUN connection on the client device: don't care about phone number, account or dns because the app emulates only the modem behaviour but it sends/retrieves data to/from phone wifi/mobile connection!!
Comments: