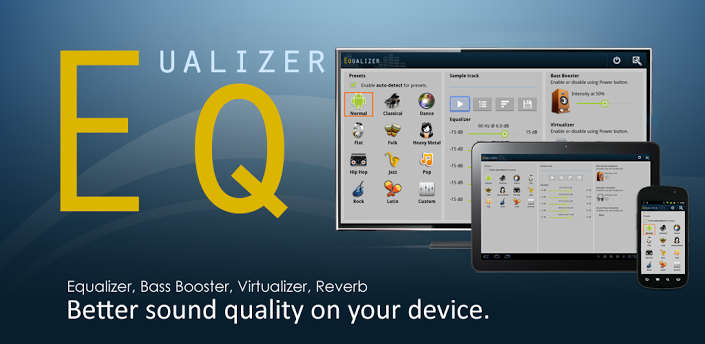 APP description:
Improve your phone or tablet's sound quality with the first true global Equalizer app and home-screen widget! Equalizer lets you adjust sound effect levels so that you get the best out of your Music or Audio coming out of your phone. Apply Equalizer Presets based on Music Genre, or quickly create your own custom preset with the 5 band Equalizer controller. Additional Audio Effects supported include: Bass Booster, Virtualizer and Reverb Presets. .
Features:

* ★ 11 Stock Presets
★ Preset auto-detection (See list of supported players below)
★ 5 Band-level Equalizer Controller
★ Audio sampler to test your Equalizer settings
★ Bass Booster
★ Virtualizer
★ Reverb Presets
★ Integrates with stock Android Music player
★ Works on both wired and Bluetooth A2DP headsets
★ Works with streaming music like Pandora, Spotify, etc.
★ Power Mode options to enable/disable effects
★ Beautiful 4x1 and 2x1 Equalizer widgets for your home-screen
★ Additional widget skins available for download
★ Transparent background mode available for widgets
★ Notification shortcut available for quick access
★ Fully optimized for phones and tablets
★ No root required
★ Save Custom Presets
★ Delete, Edit, Rename Presets
★ Create Home-screen shortcut for Presets
★ Backup and Restore Presets from SD card

Stock presets include:
★ Normal
★ Classical
★ Dance
★ Flat
★ Folk
★ Heavy Metal
★ Hip Hop
★ Jazz
★ Pop
★ Rock 
★ Latin (New) !
Comments: